This Off-Season has been an exciting and hectic one for all of us involved with team Bigley Motorsports. Coming off a hot 2018 season competing in NHRA Division 1 Super Comp and clenching the title, it was time to up the ante for 2019 with the addition of competing in a second class. We are excited to announce that we will be competing in NHRA D1 Super Street in 2019 in our 2002 Pontiac Firebird Super Stock car. None of this would be possible without the help of our great Marketing Partners and Sponsors including BTE Racing, KB Trailer Sales, Todd's Extreme Paint, Numidia Dragway, K&N Filters and Insinger Performance.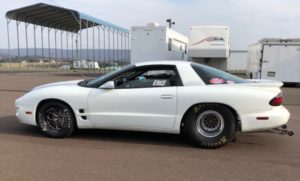 With so much to do, and so little time in the off-season, we've had our hands full every single weekend. It's been a long, grueling but rewarding process over the last few months and things are finally coming together to say the least. What started off in 2018 with a near blown engine, lead to us having to pull out our current 522 cubic inch Big Block Chevy to be sent out to our Engine Builder, Huntsville Engines. Alongside a fresh engine, meant a new power glide 2 speed transmission, which we had the great fortune of gaining a very meaningful sponsorship with BTE Racing to help us with the transmission and converter. BTE has supported us completely throughout this journey and we are proud to represent and expand the brands reach in the North East and look forward to a long-lasting partnership.
Fast forwarding from January 1 when it all began, to now March 27th where we are nearing the end of this long journey. From weekly maintenance on the car, to completely re wiring and adding electronics to the main frame of the car, upgrading various parts, and so much more, we have essentially created a rebirth for our Firebird and couldn't be happier with the outcome. Without the help of our sponsors, our team's hard work and our diligent planning week in and week out, this project would have never been completed on the short time basis it was allotted and we very much so look forward to testing the car over the coming weeks. We will be debuting the car at the first NHRA Division 1 Lucas Oil Drag Racing Series Event at Maple Grove Raceway.