A very common topic and question in Sportsman Drag Racing has been "how do I secure sponsorships?". This has long been a question asked by many racers because at its core, sportsman drag racing is seen as a more of a grass roots level sport whereas with the Mello Yello Drag Racing Circuit, it features professionals. Most of your class and bracket racers are normal folks who have a passion for cars and a competitive drive and compete at the expense of their free time on the weekends. Although there are some professional drag racers at the sportsman level, they are far and few in between. So, is it possible to obtain sponsorship? The short answer is yes.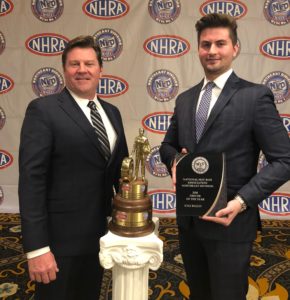 If you're an everyday racer and a working man or woman or business owner even, there are numerous ways to obtain sponsorships for your racing operation. So, let's take a look at exactly how you can secure deals with companies. First off, in today's day and age, it's best to refer to sponsors as "Marketing Partners". The term sponsor gives off a negative connotation where the company feel's they are sponsoring you the driver in a one-sided deal that is more beneficial to you than the company. However, the term marketing partner puts an emphasis on a partnership, which is exactly what these deals are. You, the driver and race team must prove your worth to the organization or company you are seeking a deal from. Whether this is done by your personal at the track support for other racers, great sales skills from a skill set you've acquired over the years, or you are known as a fierce competitor and are capable of winning numerous championships, company's need a "why" to partner with you, and you're why should be unique.
With that being said you don't have to be a Divisional or National Champion to secure deals with these companies. You do however have to provide value, and it is important to over deliver on what you promise. The best way to demonstrate your worth, value and skillset is through a "Marketing Proposal". This 3-10-page document will be put together professionally and highlight all of your accomplishments, skill sets, and what you offer, while giving the company a snapshot view as you as a person and what you stand for. It's a great way to get a foot in the door once a relationship has been built with people at that company. No matter how good your proposal is, it is important to not overlook networking and relationships as your odds of converting a sponsorship is significantly higher when there has been a long-lasting relationship with the company. If you haven't already started your journey of looking for marketing partners and marketing yourself as an authority figure in any regard, I highly suggest you begin and prepare so you can reap the benefits in the upcoming seasons. It's because of these best practices and points I have shared with you today, that I was able to land over 6 marketing partnerships in the course of a few months. I look forward to hearing your success stories.
Sample Marketing Partnership Proposal